Tuesday, November 3, 2009 , Posted by samakomlao at 5:09 AM


AFF - Football Federation of Cambodia (FFC) president Sao Sokha has launched the Cambodian International Football Tournament BIDC Cup 2009 which will see the participation of the Cambodian and Laos Under-23 sides and Vietnamese clubs Hoang Ann Gia Lai and Vissai Ninh Binh.

The inaugural tournament is slated for 8-14 November at the National Olympic Stadium in Phnom Penh Stadium.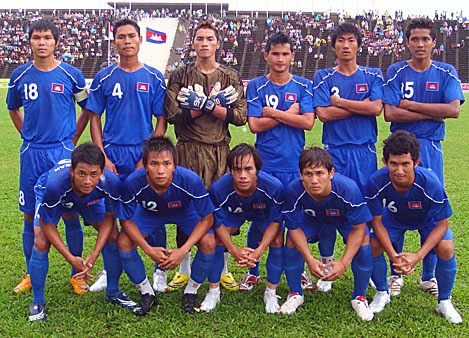 Photo: Cambodian U-23

The tournament is sponsored by Bank for Investment and Development of Cambodia (BIDC) – a branch of the Bank for Investment and Development of Vietnam – and is organised with cooperation of the football federations from the three neighbouring nations.

The tournament celebrates the 56th anniversary of Cambodian independence and strengthens friendship between Cambodia, Vietnam and Laos.

"Each team will meet each other once, with the top two (from points and goals scored) playing in the final for the trophy, while the other two play for third place. Local television network TV5 will broadcast the games live, with the opening and closing ceremonies also screened in Vietnam," said Sao Sokha.

The Lao team will participate in the Cambodian International Football Tournament BIDC Cup 2009 from November 4-18 in Phnom Penh. "This tournament will be more important than the match with Thailand this weekend because Hoang Anh Gia Lai and Vissai Ninh Binh are top teams in the Vietnamese league. Our players will have to raise the level of their game to face up to professional footballers like that," he said.

Mr Viphet said the forthcoming matches were a strategy to improve the team by pitting them against stronger teams so they could learn from the experience ahead of the SEA Games. In Cambodia, the tournament schedules are as follows:

Vissai Ninh Binh vs Laos and Hoang Anh Gia Lai vs Cambodia on November 8,
Vissai Ninh Binh vs Hoang Anh Gia Lai and Cambodia vs Laos on November 10,
Laos vs Hoang Anh Gia and Cambodia vs Vissai Ninh Binh on November 12.

The finals will take place on November 14.

The champions will receive gold medals and USD 20,000, with the runners-up pocketing USD 10,000, and third-place team USD 5,000. The player of the tournament, the top scorer and the best goalkeeper will each receive USD 1,000.

The tournament will be broadcast live on Cambodian TV5 starting at 3.30 pm.